Circolare n. 79-emergenza sanitaria da infezione CoVID-19 comunemente detto Coronavirus – Ulteriori raccomandazioni e disposizioni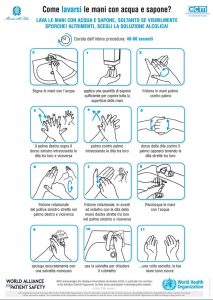 A tutto il personale
Ai genitori degli alunni
Si pubblica la circolare n.79- emergenza sanitaria da infezione CoVID-19 comunemente detto Coronavirus – Ulteriori raccomandazioni e disposizioni.
Si ripubblicano anche le circolari n. 69 e 70 per opportuna notifica delle raccomandazioni ivi contenute.
Circolare n.69
Circolare n.70
---
Versione in Cinese – 中文版
对全体员工
给小学生的父母
通告N.79
主题:通常称为冠状病毒的CoVID-19感染医疗急诊-附加
建议和规定。
在意大利北部某些地区(伦巴第,威尼托,
政府颁布了法令和法令,
一些地区。这些措施包含针对区域和区域的严厉遏制措施
关注。仅考虑"委托主管当局"采取的其他措施
并在发生传染病的地区和城市中应用。
昨天,2020年2月23日,教育部通过新闻稿命令
暂停在全国范围内和国外的教育访问。区域
托斯卡纳(Toscana)也代表学校下令进一步卫生。在
我们所在的地区,省或直辖市不存在包含类型规定的当前状态
比上面提到的地区要多。
为了遵守这些规定和一般的预防原则,
通知内容的有效性。 ñ。 2020年4月2日的第69页和n。 6/2/2020中的70(重新发布),是
呼吁他们谨慎和严格的尊重。此外,还提供以下规定:
-实施艺术。 2020年2月23日法令第3条第1款,
从2020年2月1日起,他们经过并停在市政当局
o伦巴第大区
Regione Lombardia

Bertonico
Casalpusterlengo
Castelgerundo
Castiglione D'Adda
Codogno
Fombio
Maleo
San Fiorano
Somaglia
Terranova dei passerini

Regione Veneto
他们有义务将此情况告知ASL预防部门
主管领土,以供每个卫生当局采用
必要措施,包括在家中进行主动监视;
-教育旅行和旅行被暂停,直至另行通知;
-可以进行该地区的教育旅行,但是教职人员可以
随行教师根据确认,推迟或取消日期
照常评估和授权的方向;
-大楼将配备用于管理任何未决案件的模板
卫生工作者的干预措施(电话:118、1500、800.556060,父母,管理人员);
-应鼓励经常用肥皂洗手60秒的习惯;
-礼宾处等对公众开放的场所将配备酒精凝胶
特别是拜访父母和外部运营商,以替代他们
以前;
-必须经常清洁所有经常接触的表面
厕所和卫生表面,按照已经在
附于第0号通函的计划2020年4月2日的69。
仅出于提供信息的目的,应注意,迄今为止,研究所的学校中没有学生
其他"最近14天内已从受感染地区返回的人员"正在参加。
邀请所有有关方面以各自的角色遵守规定。在
如有必要或传达有用的信息,请致电管理层。
这些指示可以随着情况的变化和
主管当局。
感谢您的配合。
---
English version
To all the staff
To the parents of the pupils
CIRCULAR N.79
Subject: CoVID-19 infection medical emergency commonly known as Coronavirus – Additional recommendations and provisions.
Following the increase in cases of contagion in some regions of Northern Italy (Lombardy, Veneto, Emilia Romagna, Piedmont, Liguria), decrees and ordinances were issued by the Government and of some regions. These contain drastic containment measures for regions and areas concerned. Other measures, entrusted 'to the competent authorities', are only contemplated as possible and to be applied in areas and municipalities in the event that cases of contagion occur in them.
Yesterday, 23/2/2020, the Ministry of Education through the press release ordered the suspension of educational visits throughout the national territory and abroad. The region Toscana has ordered further sanitation on its behalf also for schools. At the current state does not exist in our region, province or municipality containing type provision than those of the regions mentioned above.
In obedience to these provisions and to the general precautionary principle, the validity of the content of circ. n. 69 of 4/2/2020 and n. 70 of 6/2/2020 (which are republished) and yes appeals to their careful and scrupulous respect. In addition, the following provisions are given:
– In implementation of art. 3, paragraph 1. Of the decree-law 23 February 2020, n.6 individuals who from 1 February 2020 they passed through and stopped in the municipalities
o Lombardy Region
▪ Bertonico
▪ Casalpusterlengo
▪ Castelgerundo
▪ Castiglione D'Adda
▪ Codogno
▪ Fombio
▪ Maleo
▪ San Fiorano
▪ Somaglia
▪ Newfoundland of sparrows
o Veneto Region
▪ Vò
They are obliged to communicate this circumstance to the ASL Prevention Department competent for the territory, for the purposes of adoption by the health authority of each necessary measure, including at home with active surveillance;
– educational trips and trips are suspended until further notice;
– educational trips to the area can be made, but the faculty is given the accompanying teachers to confirm, postpone or cancel the date in accordance with the direction that will evaluate and authorize as usual;
– the complexes will be equipped with templates for the management of any pending cases of the intervention of health workers (tel. 118, 1500, 800.556060, parents, management);
– the habit of frequently washing hands with soap for 60 seconds should be encouraged;
– points open to the public such as concierge offices will be equipped with alcoholic gel inviting in especially visiting parents and external operators to use them as an alternative to the action previous one;
– all frequently touched surfaces must be cleaned with particular care toilet and sanitary surfaces, according to the cleaning procedures already described in scheme attached to circular no. 69 of 4/2/2020.
For information purposes only, it should be noted that to date, no pupil in the schools of the Institute other personnel 'who have returned from the areas affected by the infection in the last 14 days' are attending.
All interested parties are invited, each in their own role, to comply with the provisions. In if necessary or to communicate information deemed useful, call the Management. These indications may be modified as the situation changes and on indication of the competent authorities.
Thanks for your collaboration.
Allegati